What is a Safety Management System?
A Health and Safety Management System provides a framework for managing Health and Safety in your Company or Organisation.
An effective Health and Safety Management System must clearly outline the roles and responsibilities of all involved in the Company or Organisation to ensure that an efficient, cost effective system is put in place to manage Health and Safety.
A Health and Safety Management System is based on standards, which specify a process of achieving continuously improved and ensuring the company is complying with all relevant legislation.
A Health and Safety Management System means the part of the Organisation's management system which covers:
The health and safety work organisation and policy in a company
The planning process for accident and ill health prevention
The line management responsibilities
The practices, procedures and resources for developing and implementing, reviewing and maintaining the occupational safety and health policy.
The key elements of a successful safety and health management system are:
Policy and commitment
Planning
Implementation and operation
Measuring performance
Auditing and reviewing performance
Who should implement a Safety & Health Management System
All personnel responsible for the health & safety in the workplace.  The workplace should prepare an Occupational Health & Safety policy as part of the preparation of the Safety Statement required by Section 20 of the Safety, Health and Welfare at Work Act 2005.
Benefits of Implementation a Safety Management System:
Reduction in the number of accidents
Increased compliance with legislation and relevant code of practice
More efficient management of health and safety risks.
A potential reduced in insurance costs
Improvement of the Companies Image
For further information contact
Call 053 9239383 or email info@sensiblesafety.ie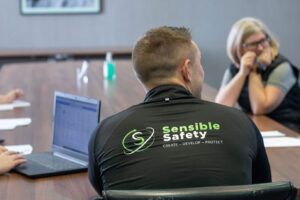 To whom it may concern, KDK have been using the services of Sensible Safety for all our site safety management, consultancy and training services.  Throughout the last 15 years we have sought the services in particular from Shane Dunphy as safety advisor and safety trainer. Shane has successfully revamped our onsite safety management systems, from introducing and completion of site induction training, toolbox talks and manual handling training. Shane has also been instrumental in developing site specific safety documentation. Shane has trained staff at operational and management level in courses for QQI Level 4 Workplace Safety and Scaffolding Inspection and QQI Coordinating Safety at Construction Stage. Shane has been a constructive influence on developing a positive and safe culture onsite with KDK. Yours sincerely, Robert Kelly Safety Director
Robert Kelly, Safety Director, KDK Scaffolding